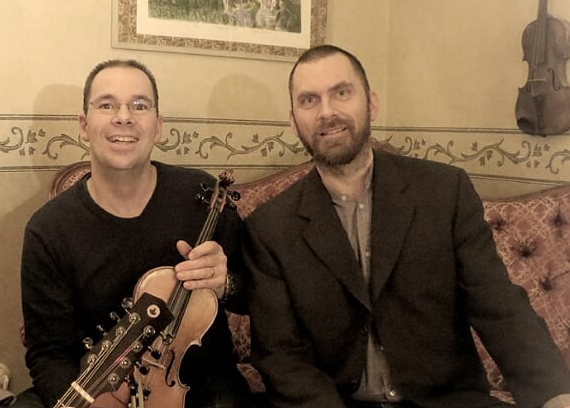 Swedish Tunes 101!
What's the difference between a polska, slängpolska and a hambo? Sten and Andreas will briefly demonstrate those music styles and more from numerous musically exotic parts of Sweden, showing there are many more styles than jigs and reels at Almonte Celtfest this year! Participants will also learn two Swedish tunes and receive several typical Swedish tunes afterward both as sheet music and recorded (online). Andreas and Sten will have you learning, laughing, and playing!
Silverfura is a duo from south-central Sweden playing engaging melodies from their region. Fiddler Sten Lindstrand and accordionist Andreas Svensson have written hundreds of tunes in the traditional style, and perform in a lively ('and often perhaps too fast!') way. They hope to deliver music that will make Celtfest visitors happy. It's their first time in North America, and they are delighted to welcome their friend Graham Lindsey to join them on their Canadian tour.
Musique Suédoise 101 ! (offert en anglais seulement)
Quelle est la différence entre une polska, une slängpolska et un hambo? Sten et Andreas feront une brève démonstration de ces styles musicaux et d'autres de nombreuses régions musicalement exotiques de Suède, montrant qu'il y a beaucoup plus de styles que de gigues et de bobines à Almonte Celtfest cette année! Les participants apprendront également deux mélodies suédoises et recevront par la suite plusieurs mélodies typiquement suédoises sous forme de partitions et d'enregistrements (en ligne). Andreas et Sten vous feront apprendre, rire et jouer!
Silverfura est un duo du centre-sud de la Suède qui joue des mélodies engageantes de leur région. Violoniste Sten Lindstrand et l'accordéoniste Andreas Svensson ont écrit des centaines de mélodies dans le style traditionnel et se produisent de manière vivante ('et souvent peut-être trop rapide!'). Ils espèrent livrer de la musique qui fera le bonheur des visiteurs du Celtfest. C'est la première fois qu'ils viennent en Amérique du Nord et ils sont ravis d'accueillir leur ami Graham Lindsey pour les accompagner dans leur tournée canadienne.