The Small Glories
Saturday July 8, 2023 at 8:30pm
Jessica Pearson & the East Wind
Sunday July 9 at 5pm
Almonte Celtfest 2023 Gemmil Park Mainstage Lineup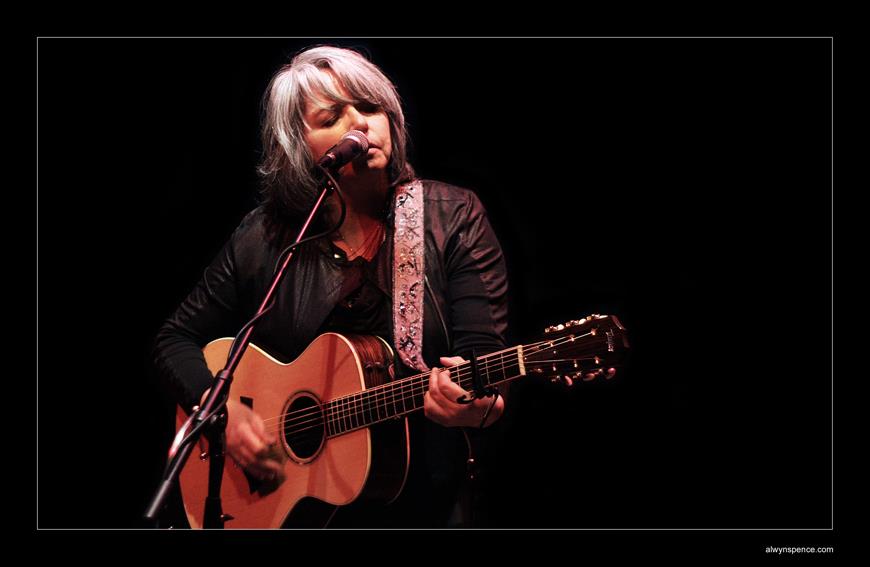 Lynn Miles 
Friday July 7 at 7pm
"The music of Lynn Miles is truly one of a kind. Not only is she one of Canada's best singer-songwriters, she's one of the best, period. Folk music has many voices but hers is a voice that stands out, it's a voice that knows the ways and long twisting back roads of the world, a voice that has lived and conveys that living through every song. It's a voice we all know. It sings of love, loss, coping, travel, sense of place and purpose, broken promises, what gets us through, what doesn't, how we defy the odds, making a perfectly beautiful human mess of things along the way. As she sings in one of her songs, "It's not the hurt, it's what you've built around it, it's bitter and it's tall, you practice being cool and confident for so long now, you got yourself a wall, not everybody's gonna understand, so that's why they might say, try not to be so sad." Lynn's is a music that understands, that breaks through the wall around our hearts and speaks truth to our lives. New York Times music critic John Pareles wrote that Miles' music "makes forlorn feel like a state of grace." I couldn't agree more."
– James Diaz of Anti-Heroin Chic
Lynn Miles – FR
"La musique de Lynn Miles est vraiment unique en son genre. Elle est non seulement l'une des meilleures auteures-compositrices-interprètes du Canada, mais aussi l'une des meilleures, tout court. La musique folk a de nombreuses voix, mais la sienne se démarque, c'est une voix qui connaît les chemins et les longues routes sinueuses du monde, une voix qui a vécu et qui transmet cette vie à travers chaque chanson. C'est une voix que nous connaissons tous. Elle chante l'amour, la perte, l'adaptation, le voyage, le sens du lieu et de l'objectif, les promesses non tenues, ce qui nous permet de nous en sortir, ce qui ne le fait pas, la façon dont nous défions les probabilités, en faisant un beau gâchis humain en cours de route. Comme elle le chante dans l'une de ses chansons, "Ce n'est pas la blessure, c'est ce que vous avez construit autour d'elle, c'est amer et c'est grand, vous vous entraînez à être cool et confiant depuis si longtemps, vous vous êtes construit un mur, tout le monde ne va pas comprendre, c'est pourquoi ils pourraient dire, essayez de ne pas être si triste." La musique de Lynn est une musique qui comprend, qui franchit le mur autour de nos cœurs et qui parle vrai à nos vies. Le critique musical du New York Times John Pareles, a écrit que la musique de Miles "fait de la tristesse un état de grâce". Je suis tout à fait d'accord."
– James Diaz de Anti-Heroin Chic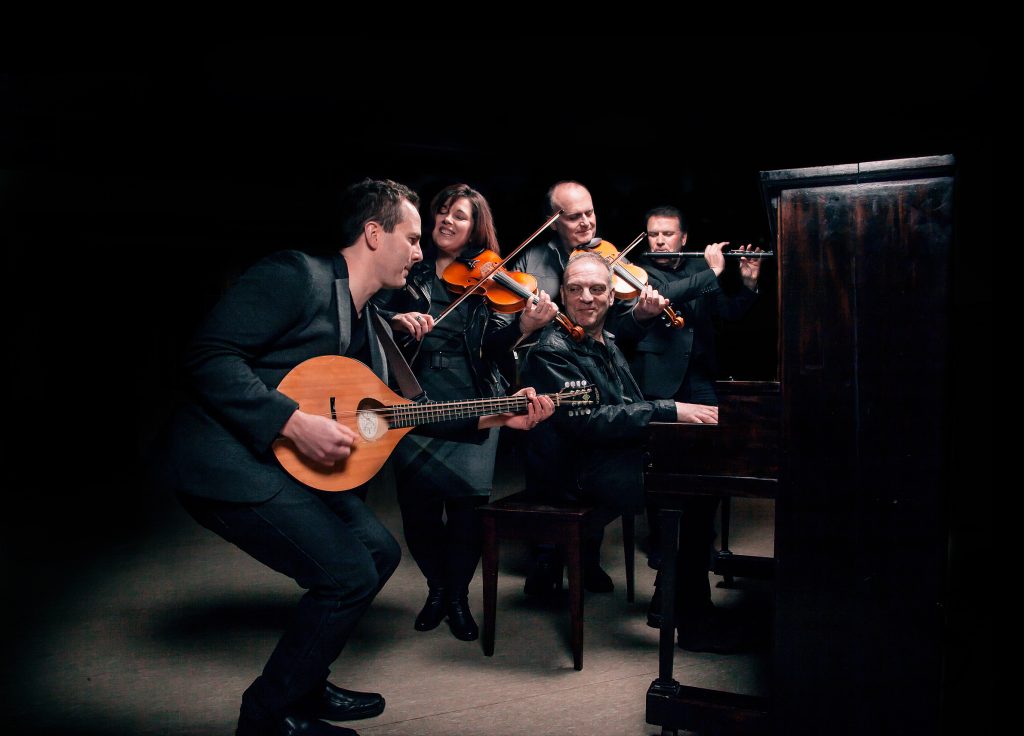 The Barra MaNeils 
Friday July 7 at 8:30pm
For more than three decades, Cape Breton-based family group the Barra MacNeils have been thrilling audiences of all ages, near and far, with their sparkling repertoire, vocals, instrumental prowess and vibrant showmanship.
The MacNeil siblings are widely regarded as one of the greatest live concert acts in the Celtic world. Hailing from Sydney Mines, Cape Breton Island, Nova Scotia, the family group is deeply rooted in Celtic music, culture, dance, language and history. Their numerous critically acclaimed recordings have included their own original songs as well as tried and true standards, both instrumental and vocal.
Their live concert experience brings so much more to the stage than most live acts ever can. Multiple lead vocalists, beautiful sibling harmonies, top drawer instrumental prowess on a wide variety of acoustic, stringed, percussion and wind instruments blended with dancing, storytelling, Gaelic songs and a journey through an ancient culture; it is family entertainment at its highest level. 
Steeped in Cape Breton tradition with strong Celtic roots and musical artistry, this diverse and talented family group continues to wow audiences around the world with their captivating vocals, harmonies and extraordinary musicianship.
The Barra MacNeils – FR
Depuis plus de trente ans, le groupe familial Barra MacNeil, basé au Cap-Breton, enthousiasme les publics de tous âges, proches et lointains, avec son répertoire étincelant, sa voix, ses prouesses instrumentales et son sens du spectacle vibrant.
Les frères et sœurs MacNeil sont largement considérés comme l'un des plus grands artistes de concert du monde celtique. Originaire de Sydney Mines, sur l'île du Cap-Breton, en Nouvelle-Écosse, le groupe familial est profondément enraciné dans la musique, la culture, la danse, la langue et l'histoire celtiques. Leurs nombreux enregistrements, salués par la critique, comprennent leurs propres chansons originales ainsi que des standards éprouvés, tant instrumentaux que vocaux.
Leur expérience en concert apporte beaucoup plus à la scène que la plupart des autres groupes. Plusieurs chanteurs principaux, de magnifiques harmonies entre frères et sœurs, des prouesses instrumentales de haut niveau sur une grande variété d'instruments acoustiques, à cordes, à percussion et à vent, le tout mêlé à de la danse, des contes, des chansons gaéliques et un voyage à travers une culture ancienne ; c'est un divertissement familial à son plus haut niveau. 
Imprégné de la tradition du Cap-Breton, avec de fortes racines celtiques et un grand talent musical, ce groupe familial diversifié et talentueux continue d'émerveiller les publics du monde entier avec ses voix captivantes, ses harmonies et ses extraordinaires talents de musicien.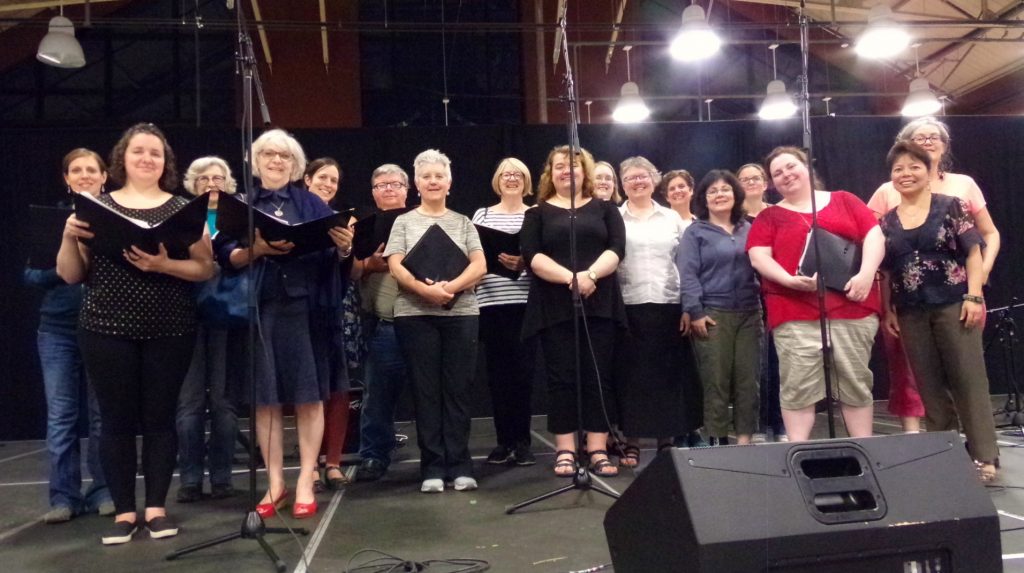 Ottawa Celtic Choir 
Saturday July 8 at 12:15pm
The Ottawa Celtic Choir was established in 2007, and reflects a rich heritage of Celtic music in our community and our country. The Ottawa Celtic Choir is a women's community choir that sings songs from the seven Celtic nations, as well
as from strongly Celtic-influenced areas (such as the Atlantic provinces, Quebec, Ontario, etc.). We sing in the six Celtic languages as well as English, and French. We are a non-auditioned community choir. An ability to read music or speak one of the Celtic languages is not necessary to sing with us. The Ottawa Celtic Choir is an affiliate choir of Carleton University.
Connect with them on Facebook @TheOttawaCelticChoir
Ottawa Celtic Choir – FR
L'Ottawa Celtic Choir a été créé en 2007 et reflète le riche héritage de la musique celtique dans notre communauté et notre pays. Le Chœur celtique d'Ottawa est un chœur communautaire de femmes qui chante des chansons des sept nations celtiques, ainsi que des régions à forte influence celtique (comme les provinces de l'Atlantique, le Québec, l'Ontario, etc.
ainsi que des régions à forte influence celtique (comme les provinces de l'Atlantique, le Québec, l'Ontario, etc.) Nous chantons dans les six langues celtiques ainsi qu'en anglais et en français. Nous sommes une chorale communautaire sans auditions. Il n'est pas nécessaire de savoir lire la musique ou de parler l'une des langues celtiques pour chanter avec nous. L'Ottawa Celtic Choir est un chœur affilié à l'Université de Carleton.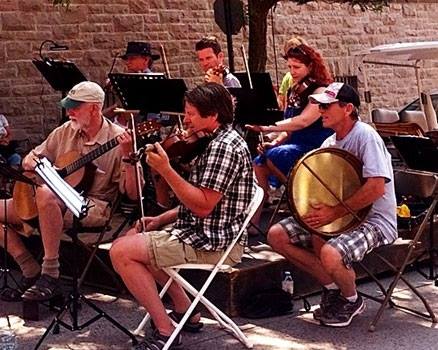 Barley Shakers 
Saturday July 8 at 12:55pm
This band of lively musicians enjoy performing tunes in both the ancient Celtic and Canadian Old Time Fiddling traditions.  Their various string instruments, keyboard and percussion blend centuries of old favourites with modern melodies. 
Tap your toes or sway to the beat as the Barley Shakers introduce you to their entertaining playlist!
Barley Shakers – FR
Ce groupe de musiciens dynamiques aime interpréter des airs issus des anciennes traditions celtiques et canadiennes du "Old Time Fiddling".  Leurs divers instruments à cordes, claviers et percussions mélangent des siècles de vieilles chansons favorites avec des mélodies modernes. 
Tapez du pied ou balancez-vous sur le rythme pendant que les Barley Shakers vous présentent leur liste de chansons divertissantes !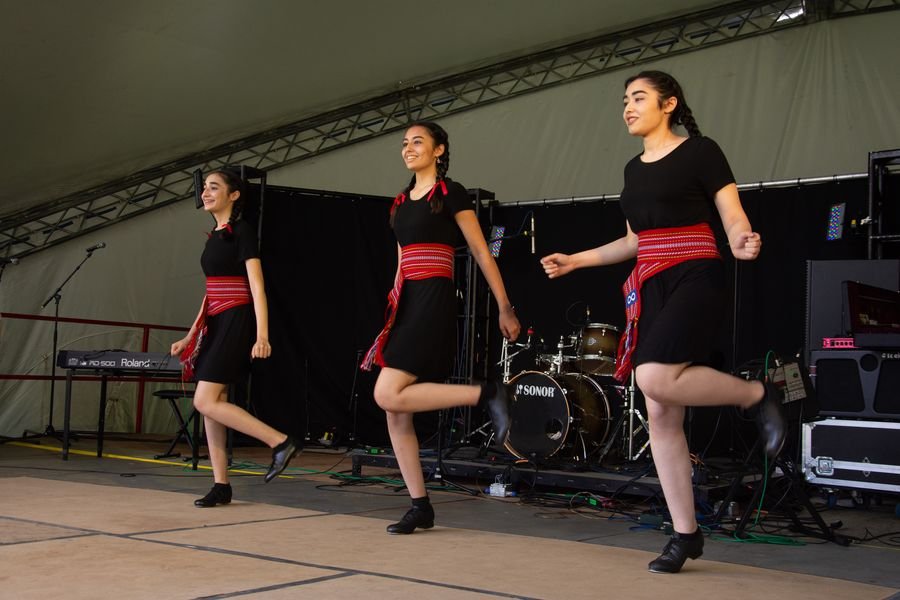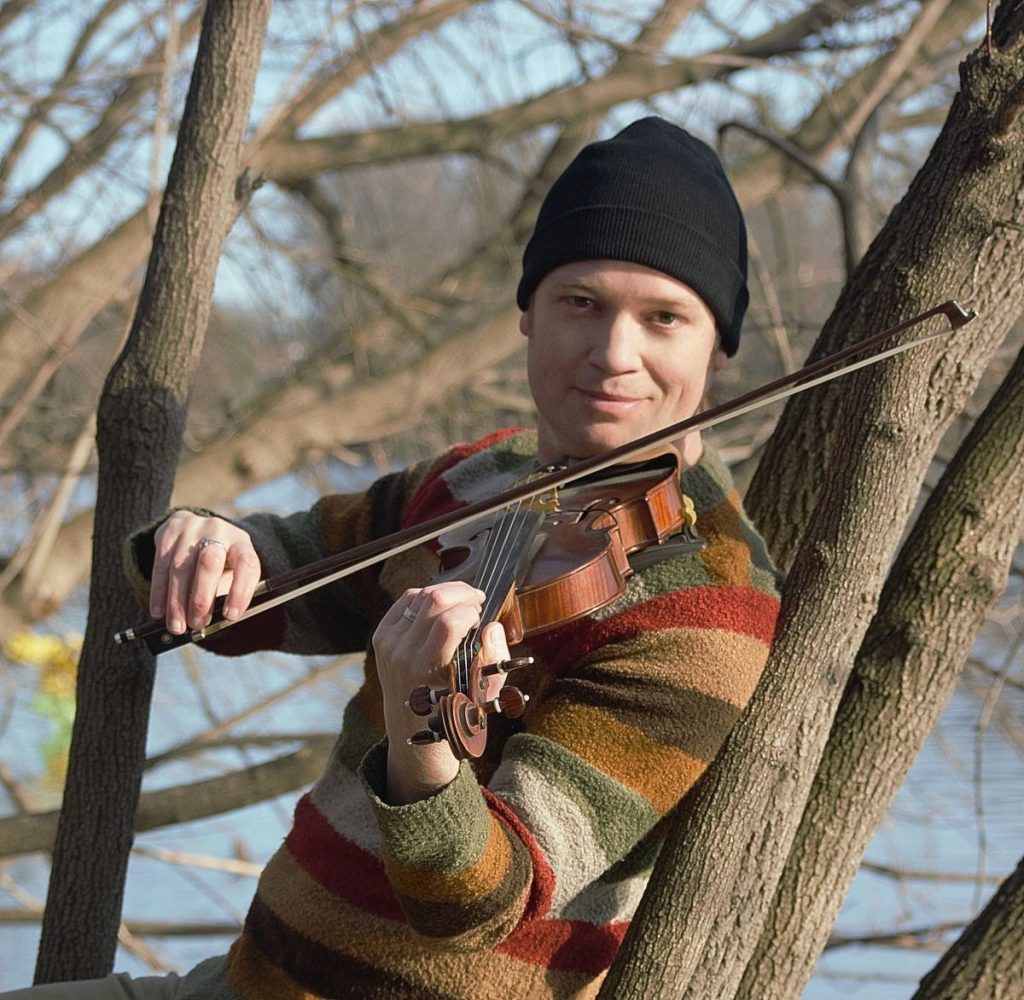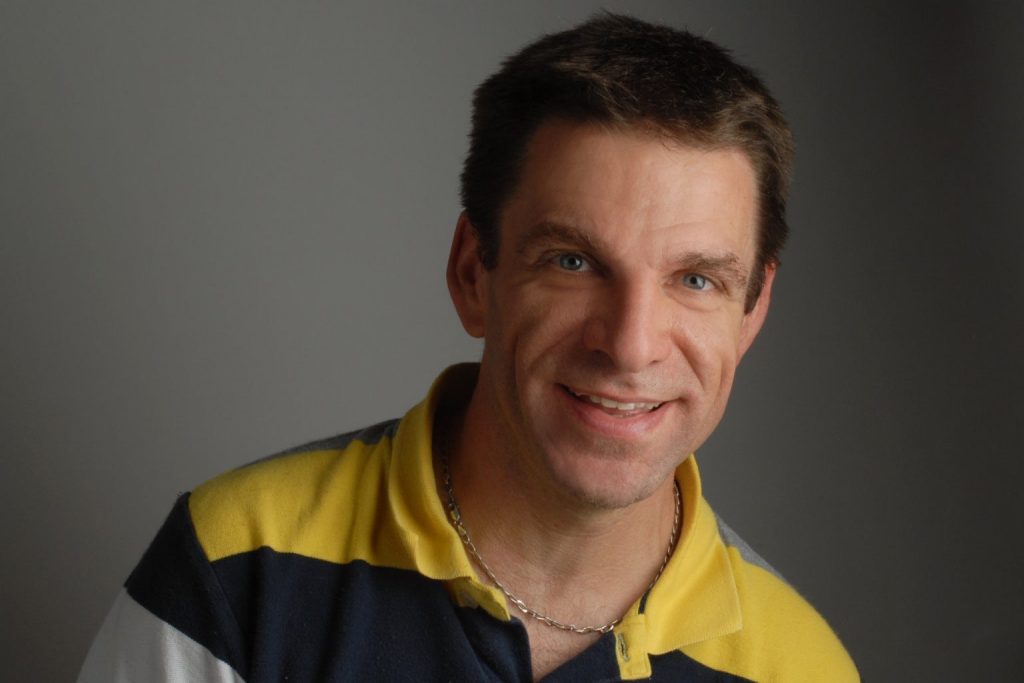 The Lyons Sisters with Chad Wolfe and Mark Allen
Saturday July 8 at 1:35pm
Taliah, Zara, and Sarina Lyons are "The Lyons Sisters". They are Metis Jiggers of Swampy Cree descent from Northern Manitoba/North East Saskatchewan. They've been learning traditional dance for most of their lives and love to share it with others as performers and teachers so they can pass this beautiful gift forward. Their style reflects everything they've learned from Manitoba, Saskatchewan and Ontario. They've recently performed at the 2022 Indigenous Women's Arts Conference, the 2022 Ontario Summer Indigenous Games, multiple Metis Nation of Ontario events, and Almonte Celtfest 2022. This time they are accompanied by talented musicians Chad Wolfe (fiddler) and Mark Allen (pianist).
Chad Wolfe is a Canadian open stepdance champion, dance choreographer and award-winning fiddler who has performed across Canada and abroad.  He was the principal fiddler in Ottawa's "Oh Canada EH?", the Mirvish production "The Needfire" and toured with Memories of a Don Messer Jubilee.  He has performed with Natalie MacMaster, Donnell Leahy, Ashley MacIsaac, and The Great Canadian Fiddle Show. Chad has dedicated his career to preserving these time-honoured Canadian traditions not only through performing, but also teaching.  The Chad Wolfe Studio of Fiddle & Stepdance has been in operation since 1996. Website:
chadwolfestudio.com
Mark Allen is a musician who has performed and composed music for community and professional theatre productions as well as for heritage music events.  He was recently appointed a member of the North Bay Musicians Hall of Recognition for his contributions to the Arts over the years as a music director and co-composer that were unique to the area.  He continues to be involved with theatre groups in Ottawa and has more recently developed a love for accompanying at fiddle events. Our style reflects everything we've learned from Manitoba, Saskatchewan and Ontario. 
The Lyons Sisters – FR 
Taliah, Zara et Sarina Lyons sont les "sœurs Lyons". Elles sont des Metis Jiggers d'origine Swampy Cree du nord du Manitoba et du nord-est de la Saskatchewan. Elles ont appris la danse traditionnelle pendant la plus grande partie de leur vie et aiment la partager avec d'autres en tant qu'interprètes et enseignantes afin qu'elles puissent transmettre cela. Leur style reflète tout ce qu'ils ont appris du Manitoba, de la Saskatchewan et de l'Ontario. Elles ont récemment participé à la 2022 Indigenous Women's Arts Conference, aux 2022 Ontario Summer Indigenous Games, à de nombreux événements de la Nation Metis de l'Ontario et à l'Almonte Celtfest 2022. Cette fois, elles sont accompagnées par les musiciens de grand talent Chad Wolfe (violoniste) et Mark Allen (pianiste).
Chad Wolfe est un champion canadien de stepdance, un chorégraphe de danse et un violoneux primé qui s'est produit dans tout le Canada et à l'étranger.  Il a été le principal violoniste du spectacle " Oh Canada EH ? " d'Ottawa, de la production Mirvish " The Needfire " et a participé à la tournée Memories of a Don Messer Jubilee.  Il s'est également joint à Natalie MacMaster, Donnell Leahy, Ashley MacIsaac et au Great Canadian Fiddle Show. Chad a consacré sa carrière à la préservation de ces traditions canadiennes ancestrales, non seulement en se produisant sur scène, mais aussi en enseignant.  Le Chad Wolfe Studio of Fiddle & Stepdance est en activité depuis 1996. Site Web :
chadwolfestudio.com
Mark Allen est un musicien qui a joué et composé de la musique pour des productions théâtrales communautaires et professionnelles, ainsi que pour des événements de musique patrimoniale.  Il a récemment été nommé membre du North Bay Musicians Hall of Recognition pour ses contributions aux arts au fil des ans en tant que directeur musical et co-compositeur unique dans la région.  Il continue de participer à des troupes de théâtre à Ottawa et, plus récemment, il a développé une passion pour l'accompagnement lors d'événements liés au violon. Notre style reflète tout ce que nous avons appris du Manitoba, de la Saskatchewan et de l'Ontario.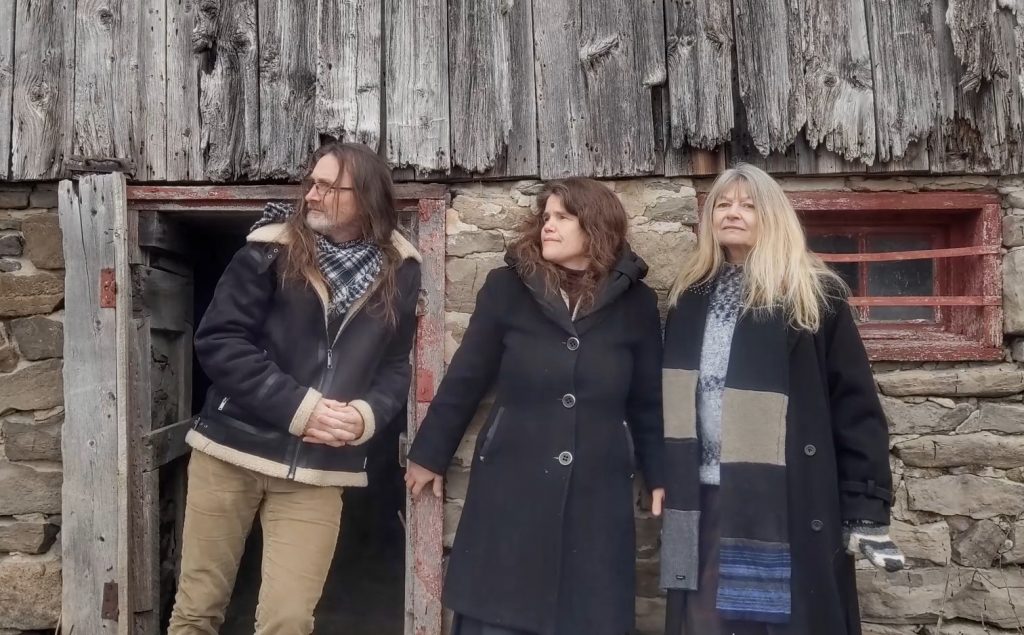 Tripoly
Saturday July 8 at 2:45pm
Tripoly performed its first show a week before the first lockdown. Formed from members of the world music group Fiddlehead Soup, the trio has spent the time since then curating a wonderfully varied collection of traditional and modern songs perfectly suited to their individual talents. 
Based around the silken voice of Elizabeth McNally (that will remind you of the happy heyday of English folk music), the harmonies of Glenna Hunter and Douglas Hendry perfectly complement the instrumentation of 'cello, fiddle, 12-string guitar and cittern. 
Glenna is the daughter of well known ceilidh pianist (and tipper maker) Jim Hunter and has been schooled in traditional music since, literally, the cradle and Doug is a Scotsman who learned his musical craft in the folk clubs of his native home. Doug and Glenna have played together for 15 years, first in a ceilidh band before forming Fiddlehead Soup in 2013. 
In 2021, Tripoly used the time in the lockdown to create a short film based around the Dougie MacLean song "Ready For the Storm" and this year they have performed, along with an ad hoc collection of musicians called the Grenville Troubadours, a series of sell-out Sing Along concerts for Burns Night and St Patrick's Day. 
Tripoly make music that is a delight to the ear, a lush harmonious sound that is carefully crafted and joyfully shared with audiences throughout Canada. The trio is looking forward very much to sharing their sound at Almonte Celtfest. 
Tripoly – FR
Tripoly a donné son premier concert une semaine avant la première fermeture. Formé de membres du groupe de musique du monde Fiddlehead Soup, le trio a passé le temps depuis lors à élaborer une collection merveilleusement variée de chansons traditionnelles et modernes parfaitement adaptées à leurs talents individuels. 
Autour de la voix soyeuse d'Elizabeth McNally (qui vous rappellera les beaux jours de la musique folk anglaise), les harmonies de Glenna Hunter et Douglas Hendry complètent parfaitement l'instrumentation composée de violoncelle, de violon, de guitare à 12 cordes et de cistre. 
Glenna est la fille du célèbre pianiste de ceilidh (et fabricant de tasses) Jim Hunter et a été éduquée dans la musique traditionnelle depuis le berceau, littéralement, et Doug est un Écossais qui a appris son métier de musicien dans les clubs folk de son pays natal. Doug et Glenna jouent ensemble depuis 15 ans, d'abord dans un groupe de ceilidh avant de former Fiddlehead Soup en 2013. 
En 2021, Tripoly a profité de la période de fermeture pour créer un court-métrage basé sur la chanson de Dougie MacLean "Ready For the Storm". Cette année, ils ont donné, avec un groupe de musiciens ad hoc appelé les Grenville Troubadours, une série de concerts à guichets fermés à l'occasion de la Burns Night et de la St Patrick's Day. 
Tripoly fait de la musique qui est un délice pour l'oreille, un son harmonieux et luxuriant qui est soigneusement élaboré et joyeusement partagé avec des publics dans tout le Canada. Le trio est impatient de partager sa musique au Celtfest d'Almonte. 
Pour de plus amples renseignements, visitez fiddleheadsoup.com/tripoly.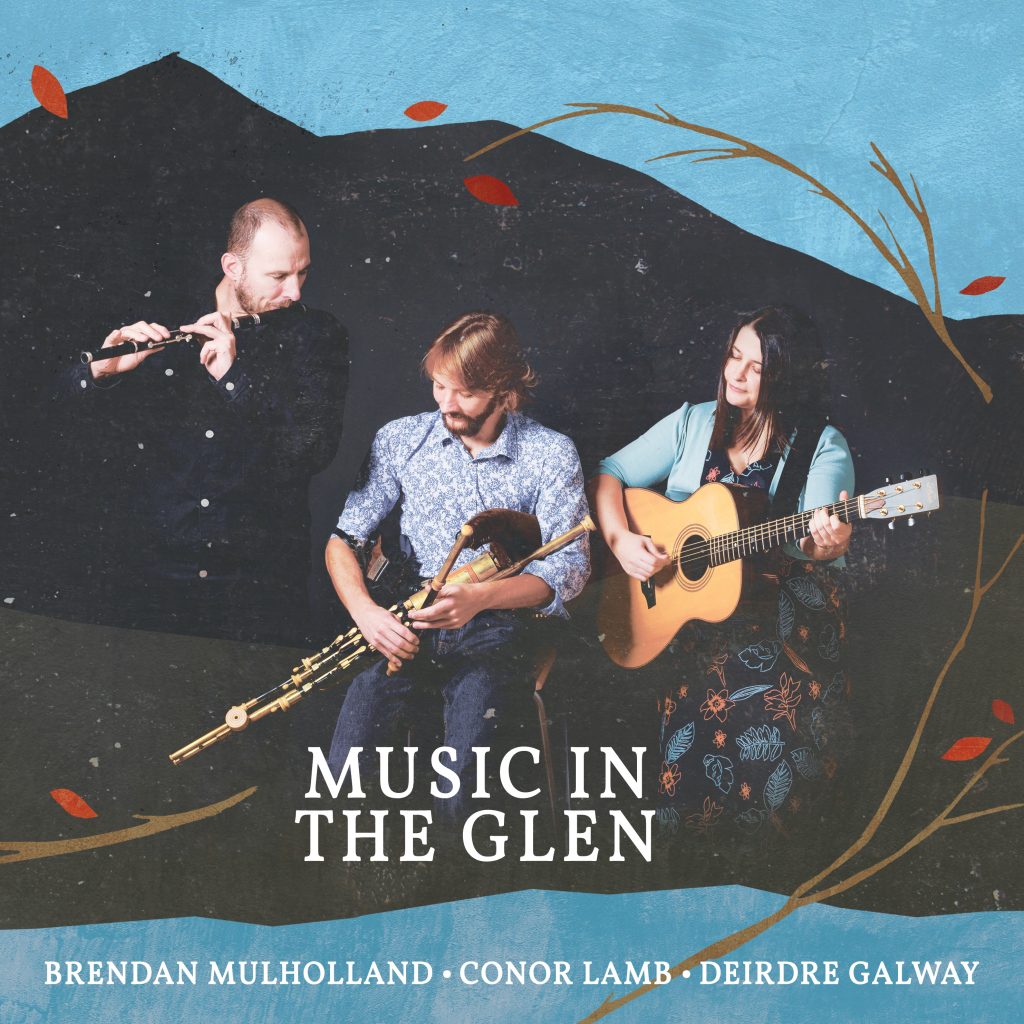 Music in the Glen 
Saturday July 8 at 3:40pm
Music In The Glen are an exciting new trio performing the very best of Irish traditional
music. Featuring the combined talents of Brendan Mulholland (flute) and founding
Réalta members Conor Lamb (uilleann pipes, whistles) and Deirdre Galway (guitar),
these musicians deliver the infectious rhythm and soul which are the hallmarks of Irish
music.
Forged from a relationship of 20 years playing music together, Conor and Brendan
have joined forces with Deirdre on accompaniment to create a sound that draws upon a
long developed bond and mutual musical understanding.
Each musician is a respected artist in their own field. Through different projects they
have performed across the globe from Belfast to Washington, Moscow and Seoul in
venues ranging from your local folk club to Shakespeare's Globe Theatre and the
Milwaukee Irish Festival Main Stage. Individually they have featured on a dozen
albums and have performed with a variety of international acts including Réalta,
Gráinne Holland, Craobh Rua and Mary Dillon. Collectively they are one of the finest
trios on the Irish music scene today.
Music in the Glen – FR
Music In The Glen est un nouveau trio passionnant qui interprète le meilleur de la musique traditionnelle irlandaise. Avec les talents combinés de Brendan Mulholland (flûte) et des membres fondateurs de Réalta, Conor Lamb (uilleann pipes, whistles) et Deirdre Galway (guitare). membres fondateurs de Réalta, Conor Lamb (uilleann pipes, whistles) et Deirdre Galway (guitare), ces musiciens transmettent le rythme contagieux et l'âme qui caractérisent la musique irlandaise. irlandaise.
Issus d'une relation de 20 ans de musique commune, Conor et Brendan ont uni leurs forces à celles de Deirdre pour former le groupe. ont joint leurs forces à celles de Deirdre pour l'accompagnement afin de créer un son qui s'appuie sur un lien de longue date et une compréhension musicale mutuelle. d'un lien de longue date et d'une compréhension musicale mutuelle.
Chaque musicien est un artiste respecté dans son propre domaine. Dans le cadre de différents projets, ils ont joué dans le monde entier, de Belfast à Washington, en passant par Moscou et Séoul. dans des lieux allant du folk club local au Shakespeare's Globe Theatre et au Milwaukee Irish Festival Main. Milwaukee Irish Festival Main Stage. Individuellement, ils ont participé à une douzaine d'albums et se sont produits avec une variété de groupes internationaux, dont Réalta, Gráinne Holland, Craobh Rua et Mary Dillon. Collectivement, ils forment l'un des meilleurs sur la scène musicale irlandaise d'aujourd'hui.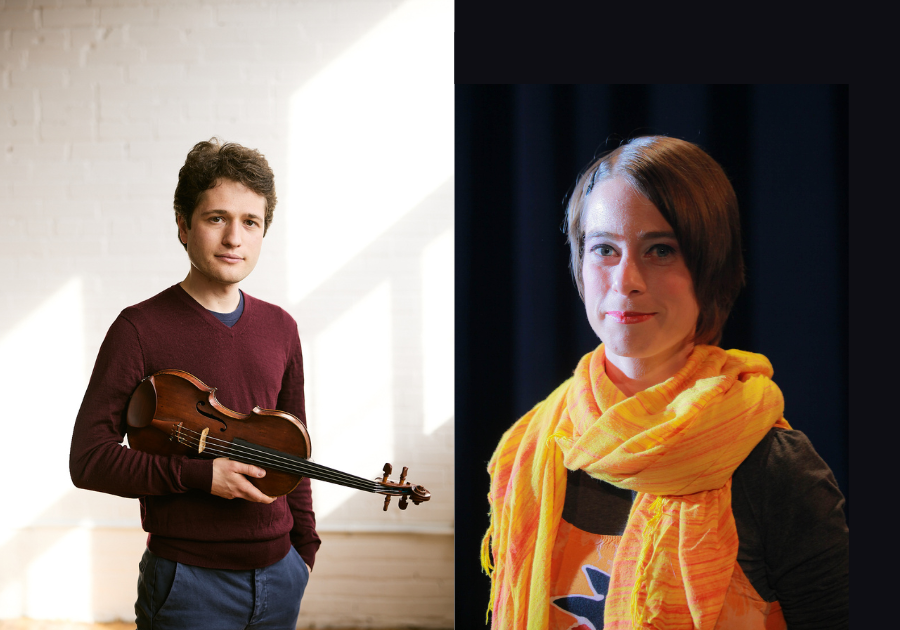 Mélissandre T-B & Alexis Chartrand
Saturday July 8 at 4:50pm
Explore the melodies and movements of Québecois traditional music and dance with Mélissandre Tremblay-Bourassa and Alexis Chartrand (aka Mélissandre & Alexis) on Saturday afternoon at Almonte Celtfest 2023.
Reunited in July 2018 for an artistic residency in the City of Joliette, Mélissandre Tremblay-Bourassa and Alexis Chartrand are a jigger and a fiddler whose varied interests sometimes take them far from folklore, only to return to it with a fresh perspective. Sensitive to the precision of a step that inspires a bow movement, they let themselves be led by jig tunes and dance rhythms.
Mélissandre is a speciality in Québec step-dancing, a graduate of the Jeune Ballet du Québec program and a pupil of great percussive dances teachers such as Sandy Silva, Martine Bilette and Pierre Chartrand, Mélissandre T-B has worked professionally as a dancer, a dance master, a choreographer, a dance caller and an entertainer since 2003.
Alexis Chartrand is a fiddler from Montréal who has been active in the Québécois traditional music scene for several years. He is known for his energetic accompaniment of step-dancing and social dances. His interest in Québécois, Irish and Scottish fiddle styles informs his musicianship, along with his study of classical, contemporary and baroque mus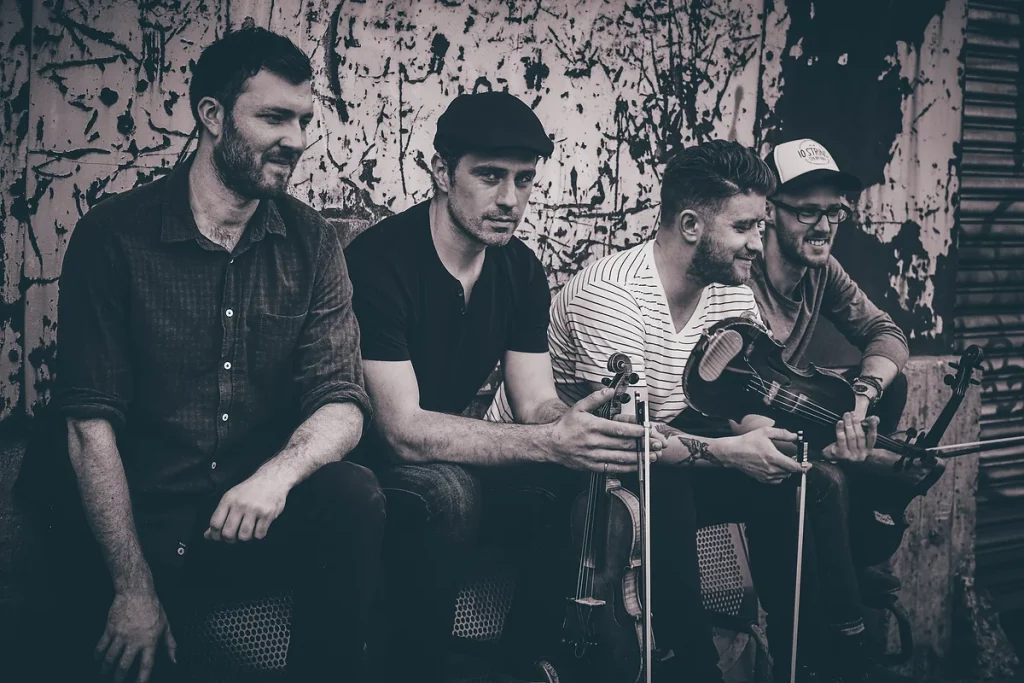 The Fretless 
Saturday July 8 at 5:45pm
Four ferocious players, masterful composition, and a genre-bending sound—Juno award-winning The Fretless is a Canadian quartet that has firmly taken its place on the map to a progressive form of "trad".
A supergroup of celebrated solo artists, The Fretless has been creating a singular and signature sound that dares to expand the idea of what a string music quartet can be—transforming fiddle tunes and folk melodies into intricate, beautiful, high-energy arrangements that have quickly gained a dedicated following and accolades from around the world. Within what appears to be a simple construct — two fiddles, a viola, and a cello — The Fretless has created a sound that is distinctly rich, multi-layered, and uniquely percussive. This tonal quality is pushing traditional music to new heights, producing a completely fresh approach to Folk music. 
Starting with its debut album in 2012, The Fretless had a breakout year winning Instrumental Album of the Year at the Western Canadian Music Awards and Instrumental Group of the Year and Ensemble of the Year at the Canadian Folk Music Awards(CFMA). Their self-titled follow-up album, "The Fretless," took home Ensemble of the Year at the CMFA's and features the tune "Waving To Ryan", currently approaching nearly two million Spotify plays. In 2015, they released "Bird's Nest", an album that solidified them as a force among the world's roots music scene and earned them a 2016 Juno award for Instrumental Album of The Year. Recorded in a historic barn, live off the floor in upstate New York, they released "Live from the Art Farm" in 2018, an expanded rhythmic, harmonic, and stylistic exploration of the many folk genres they play. This album not only won them a CFMA for Best Ensemble but earned them a second Juno nomination.
Since the band's inception in 2011, The Fretless has been successfully touring at home in Canada, as well as globally throughout Australia, South and North America, and six European tours. From
iconic and intimate concert halls to some of the worlds most prestigious stages, The Fretless has had the pleasure of performing at the Cologne Philharmonic, Luxembourg Philharmonic Orchestra Hall
,
Shetland Folk Festival, Festival Internacional Cervantino, two sold-out shows at Celtic Connections, as well as sharing the bill with Canadian fiddle legend, Natalie McMaster, for Canada Scene at the National Arts Centre. A Fretless show is infectious, dynamic, and impressively relentless. They not only deliver expert musicianship and an electrifying performance but always invite the audience to feel the passion they hold for their music.
Outreach and inspiring the next generation of string players is very much a part of The Fretless' ethos. They continue to support numerous fiddle camps, masterclass' and workshops around the world, not only as instructors but as mentors. Over the past few years, they have connected with notable organizations such as the Calgary Youth Orchestra and the Luxembourg Youth Orchestra, creating and performing full orchestral arrangements of Fretless tunes.
The Fretless is Trent Freeman (Fiddle/Viola), Karrnnel Sawitsky (Fiddle/Viola), Ben Plotnick(Fiddle/Viola), and Eric Wright (Cello).
They not only deliver expert musicianship and an electrifying performance but a show that makes you feel the passion they have for the music.
The Fretless – FR 
Quatre joueurs féroces, une composition magistrale et un son qui bouscule les genres – The Fretless, lauréat du prix Juno, est un quatuor canadien qui s'est fermement positionné sur la carte d'une forme progressive de "trad".
Supergroupe d'artistes solistes célèbres, The Fretless a créé un son singulier et caractéristique qui ose élargir l'idée de ce que peut être un quatuor à cordes – transformant des airs de violon et des mélodies folkloriques en arrangements complexes, magnifiques et pleins d'énergie qui ont rapidement gagné un public dévoué et des accolades du monde entier. Avec ce qui semble être une construction simple – deux violons, un alto et un violoncelle – The Fretless a créé un son distinctement riche, multicouche et uniquement percussif. Cette qualité tonale pousse la musique traditionnelle vers de nouveaux sommets, produisant une approche complètement nouvelle de la musique folk. 
Dès son premier album en 2012, The Fretless a connu une année exceptionnelle en remportant le prix de l'album instrumental de l'année aux Western Canadian Music Awards, le prix du groupe instrumental de l'année et le prix de l'ensemble de l'année aux Canadian Folk Music Awards (CFMA). Leur album suivant éponyme, "The Fretless", a remporté le titre d'Ensemble de l'année aux CMFA et contient la chanson "Waving To Ryan", qui approche actuellement les deux millions d'écoutes sur Spotify. En 2015, ils ont sorti "Bird's Nest", un album qui les a consolidés en tant que force sur la scène mondiale de la musique roots et qui leur a valu un prix Juno 2016 pour l'album instrumental de l'année. Enregistré dans une grange historique, en direct du sol, au nord de l'État de New York, le groupe a sorti en 2018 "Live from the Art Farm", une exploration rythmique, harmonique et stylistique élargie des nombreux genres folkloriques qu'il interprète. Cet album leur a non seulement valu un CFMA pour le meilleur ensemble, mais leur a aussi valu une deuxième nomination aux Juno.
Depuis la création du groupe en 2011, The Fretless a tourné avec succès au Canada, ainsi qu'en Australie, en Amérique du Sud et du Nord, et a effectué six tournées en Europe. Des salles de concert emblématiques et intimes aux scènes les plus prestigieuses du monde, The Fretless a eu le plaisir de se produire à la Philharmonie de Cologne, au Luxembourg Philharmonic Orchestra Hall, au Shetland Folk Festival, au Festival Internacional Cervantino, à deux reprises à guichets fermés à Celtic Connections, ainsi qu'en partageant l'affiche avec la légende canadienne du violon, Natalie McMaster, pour la Scène Canada au Centre national des Arts. Le spectacle d'A Fretless est contagieux, dynamique et d'une implacabilité impressionnante. Non seulement les membres du groupe font preuve d'une grande maîtrise musicale et offrent un spectacle électrisant, mais ils invitent toujours le public à ressentir la passion qu'ils éprouvent pour leur musique.
La sensibilisation et l'inspiration de la prochaine génération d'instrumentistes à cordes font partie intégrante de l'éthique de The Fretless. Ils continuent à soutenir de nombreux camps de violon, masterclass et ateliers à travers le monde, non seulement en tant qu'instructeurs mais aussi en tant que mentors. Au cours des dernières années, ils se sont associés à des organisations notables telles que le Calgary Youth Orchestra et le Luxembourg Youth Orchestra, créant et interprétant des arrangements orchestraux complets des airs de The Fretless.
The Fretless est composé de Trent Freeman (violon/Viole), Karrnnel Sawitsky (violon/Viole), Ben Plotnick (violon/Viole) et Eric Wright (violoncelle).
Ils ne se contentent pas d'être des musiciens experts et d'offrir un spectacle électrisant, mais ils vous font ressentir la passion qu'ils ont pour la musique.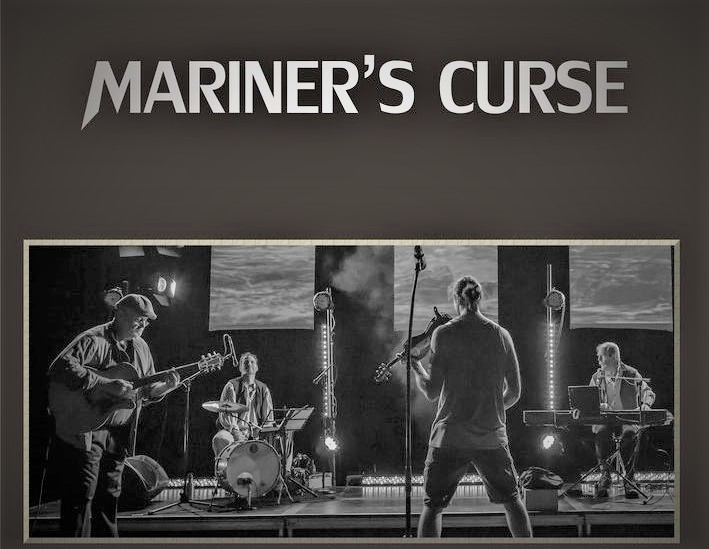 Mariner's Curse 
Saturday July 8 at 7:15pm 
Mariner's Curse, formed from the bubbling cauldron of several previous bands, features Celtic and Canadiana music with tightly knit counterpoint and multi-part harmonies. Eric de Langavant, on percussion, imparts a deep seated knowledge of time, metre and space with his precision drumming. Rocky Dalonzo, on guitar, has been a mainstay of the Montreal music scene for many years and his soaring tenor caps our vocal sound. Ron Jenkins, on keyboards, infuses the music with counter melodies and classical voicing and is the glue that fuses the band's sound. Jonathan Moorman, on fiddle and guitar, powers his instruments with raw emotive energy, delivering an amazing connection to the music
Mariner's Curse – FR
Mariner's Curse, formé à partir du chaudron bouillonnant de plusieurs groupes précédents, propose de la musique celtique et canadienne avec des contrepoints très serrés et des harmonies à plusieurs voix. Eric de Langavant, aux percussions, transmet une connaissance approfondie du temps, du mètre et de l'espace grâce à la précision de son jeu. Rocky Dalonzo, à la guitare, est un pilier de la scène musicale montréalaise depuis de nombreuses années. Ron Jenkins, aux claviers, insuffle à la musique des contre-mélodies et des voix classiques et est le ciment du son du groupe. Jonathan Moorman, au violon et à la guitare, alimente ses instruments avec une énergie émotionnelle brute, offrant une connexion étonnante avec la musique.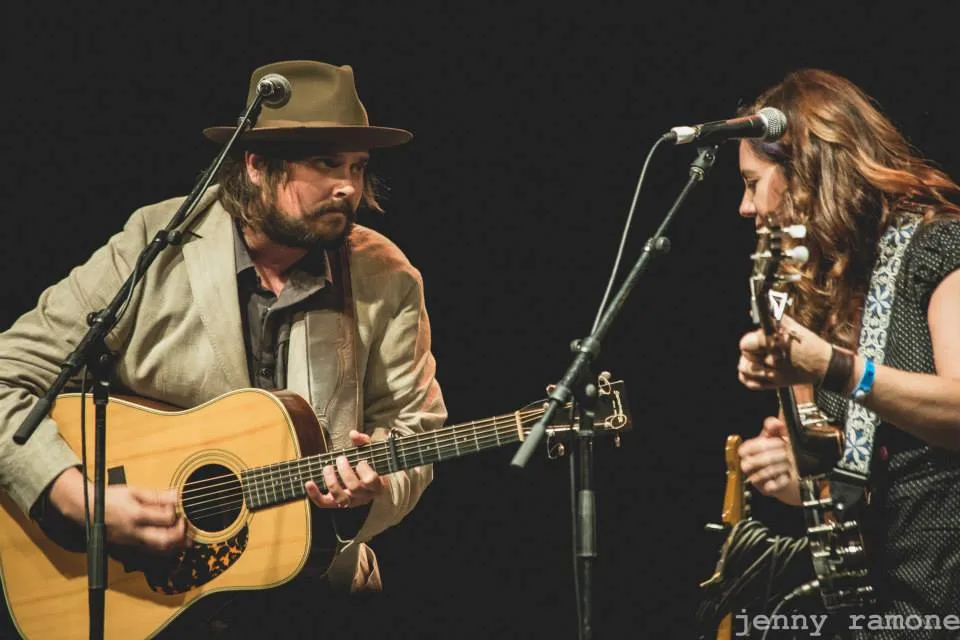 The Small Glories
Saturday July 8 at 8:30pm
This Roots Powerhouse Duo hailing from the Prairies gestures the combined forces of Cara Luft and JD Edwards who weave a kind of magic wherever they go, two voices, a guitar, and a banjo that in their merging multiply their strength and in the words of American Songwriter "generate so much energy together they could almost form a hurricane."
Have a listen to The Small Glories sing "Time Wanders On" here
https://youtu.be/MyjSVqdutw0
The Small Glories – FR 
Ce duo Roots Powerhouse originaire des Prairies réunit les forces de Cara Luft et de JD Edwards qui tissent une sorte de magie partout où ils vont. Deux voix, une guitare et un banjo qui, en fusionnant, multiplient leur force et, comme le dit American Songwriter, "génèrent tellement d'énergie ensemble qu'ils pourraient presque former un ouragan".
Écoutez The Small Glories chanter "Time Wanders On" ici 
https://youtu.be/MyjSVqdutw0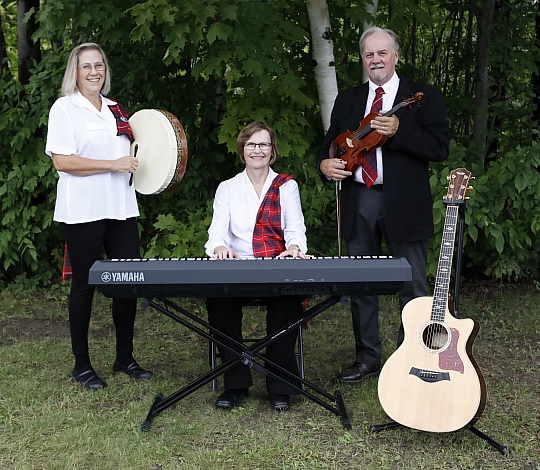 Fraser 
Sunday July 9 at 12:30pm
E
rnie Fraser is a professional fiddler and guitarist from Cape Breton Island. He began his musical career as a guitarist specializing in Blues, R&B and Jazz. Later at age 36, he developed a keen interest in fiddling that was introduced to him by his famous grandfather, Little Simon Fraser from Meat Cove, Cape Breton.  
Ernie was a top ten finalist for the 2021 Canadian Grand Masters' Fiddling Competition. He has performed for Cape Breton dances for the Cape Breton Club of Ottawa. As well, he was heavily involved with the administration of the Ottawa Traditional Fiddling and Folk Art Society (OTFFAS).   
Ernie is joined by Marietta Fraser on piano and guitar, and by Diane Fraser on bodhran and vocals. Marietta, a multi-instrumentalist, is from the Dalkeith region of Ontario and has extensive experience in accompaniment for fiddlers playing many different styles, as well as playing fiddle, banjo and guitar. Diane is well schooled in the folk music tradition and was active for approximately 35 years with the
a cappella
choir The Stairwell Carollers.  
This trio of musicians brings together a combination of musical nuances that highlight the Scottish and Irish Celtic music tradition of the Maritime provinces and particularly that of Scotland and Cape Breton, Nova Scotia. Together, they are called Fraser.
Fraser – FR
Ernie Fraser est un violoniste et guitariste professionnel originaire de l'île du Cap-Breton. Il a commencé sa carrière musicale en tant que guitariste spécialisé dans le blues, le rhythm and blues et le jazz. Plus tard, à l'âge de 36 ans, il a développé un vif intérêt pour le violon qui lui a été présenté par son célèbre grand-père, Little Simon Fraser de Meat Cove, au Cap-Breton.  
Ernie a été l'un des dix finalistes de la 2021 Canadian Grand Masters' Fiddling Competition. Il a participé à des danses du Cap-Breton pour le Club du Cap-Breton d'Ottawa. Il a également participé activement à l'administration de l'Ottawa Traditional Fiddling and Folk Art Society (OTFFAS).   
Ernie est accompagné de Marietta Fraser au piano et à la guitare, et de Diane Fraser au bodhran et au chant. Marietta, multi-instrumentiste, est originaire de la région de Dalkeith, en Ontario, et possède une vaste expérience de l'accompagnement de violoneux jouant de nombreux styles différents, ainsi que de la pratique du violon, du banjo et de la guitare. Diane connaît bien la tradition de la musique folklorique et a été active pendant environ 35 ans au sein de la chorale a cappella The Stairwell Carollers.  
Ce trio de musiciens réunit une combinaison de nuances musicales qui mettent en valeur la tradition musicale celtique écossaise et irlandaise des provinces maritimes, en particulier celle de l'Écosse et du Cap-Breton, en Nouvelle-Écosse. Ensemble, ils s'appellent Fraser.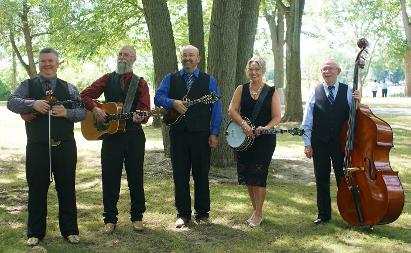 CR5
Sunday July 9 at 1:20pm
CR5 Bluegrass is an award winning 5-piece bluegrass band based out of the village of Lyndhurst Ontario. While focused mainly on traditional bluegrass music, this group has gained a large fan base due in no small part to their extensive catalogue of musical numbers that also includes country, folk, blues, pop and original material. Here, with a clip of an original tune penned by Dan Potter, is CR5 Bluegrass performing When You Walk Into a Room. Video by Rick McQueen, filmed at the 2022 IPM in Kemptville. 
CR5 – FR 
CR5 Bluegrass est un groupe de musique bluegrass primé, composé de cinq musiciens et basé dans le village de Lyndhurst, en Ontario. Bien qu'il se concentre principalement sur la musique bluegrass traditionnelle, ce groupe a acquis une large base de fans, en grande partie grâce à son vaste catalogue de morceaux musicaux qui comprend également de la country, du folk, du blues, de la pop et des morceaux originaux. Voici, avec un extrait d'un morceau original écrit par Dan Potter, CR5 Bluegrass interprétant When You Walk Into a Room. Vidéo de Rick McQueen, filmée au 2022 IPM à Kemptville.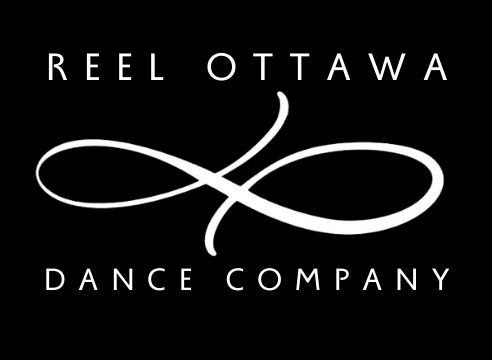 Reel Ottawa Dance Company 
Sunday July 9 at 2:15pm
The Reel Ottawa Dance Company is a professional performance group consisting of Premier Highland dancers from across the Ottawa area. Founded in 2022, our company has performed at Scottish events, Highland Games and Festivals, including the Scottish Society of Ottawa's Hogman-Eh! show. Our dancers also performed for Queen Elizabeth at Balmoral Castle in August, 2022. 
Our dancers have a profound amount of experience in both show and competition. Many growing up alongside one another on stage, their shared love of dance has brought them all together. We are so excited to showcase Highland Dancing in joining the 2023 Celtfest line up as The Reel Ottawa Dance Company. 
Reel Ottawa Dance Company  – FR
La Reel Ottawa Dance Company est une troupe professionnelle composée de danseurs Highland de premier plan de la région d'Ottawa. Fondée en 2022, notre compagnie s'est produite lors d'événements écossais, de Highland Games et de festivals, y compris le spectacle Hogman-Eh ! de la Scottish Society of Ottawa. Nos danseurs ont également joué pour la Reine Elizabeth au château de Balmoral en août 2022. 
Nos danseurs possèdent une vaste expérience du spectacle et de la compétition. Nombreux sont ceux qui ont grandi les uns à côté des autres sur scène, et leur amour commun de la danse les a tous réunis. Nous sommes très enthousiastes à l'idée de mettre en valeur la danse des Highlands en nous joignant à la programmation du Celtfest de 2023 sous le nom de The Reel Ottawa Dance Company.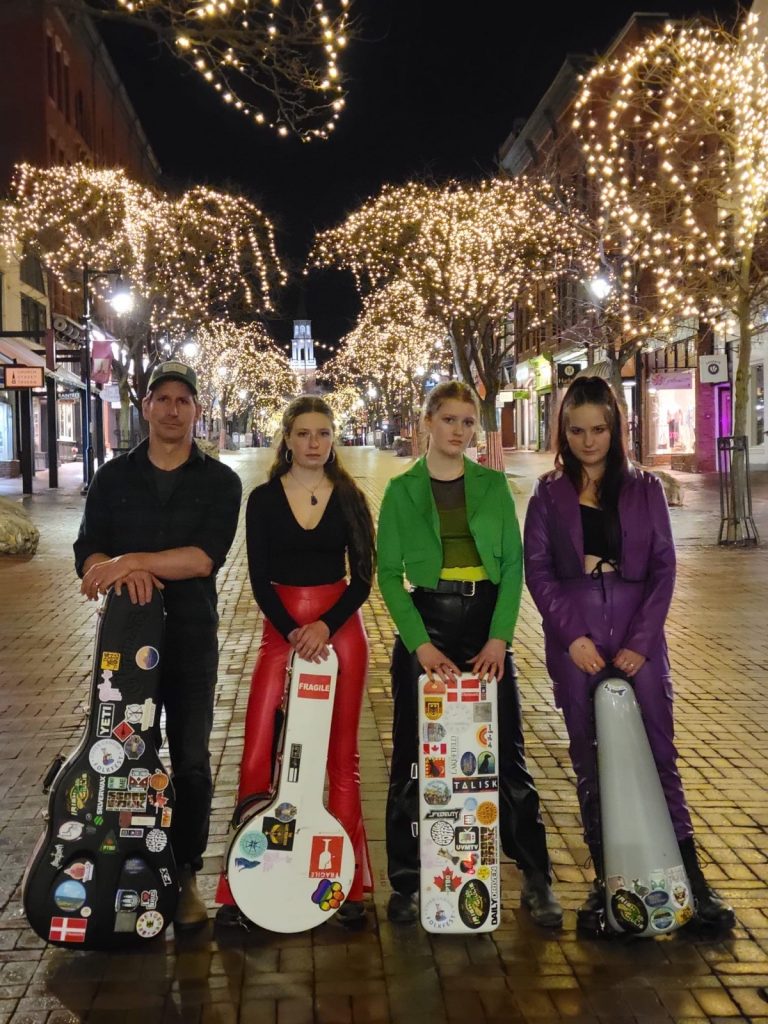 The Receivers 
Sunday July 9 at 2:45 pm
The Receivers are a Canadian Celtic band from Ontario. The group consists of Millie Shadgett on fiddle, Willow Marwood on fiddle, Fern Marwood on fiddle and banjo, and Murray Shadgett on guitar. The Receivers formed as a group in 2021 and have since then produced three singles and a music video, and have been nominated for a CFMA. The Receivers play a fun mix of original tunes along with traditional music from the East Coast and Ireland! They bring a fun energy and a certain uniqueness to the stage that you cannot deny!
The Receivers  – FR
The Receivers est un groupe celtique canadien originaire de l'Ontario. Le groupe est composé de Millie Shadgett au violon, Willow Marwood au violon, Fern Marwood au violon et au banjo, et Murray Shadgett à la guitare. Les Receivers se sont formés en tant que groupe en 2021 et ont depuis produit trois singles et un vidéoclip, et ont été mis en nomination pour un CFMA. Les Receivers jouent un mélange amusant d'airs originaux et de musique traditionnelle de la côte Est et de l'Irlande ! Ils apportent une énergie amusante et une certaine singularité sur scène que vous ne pouvez pas nier !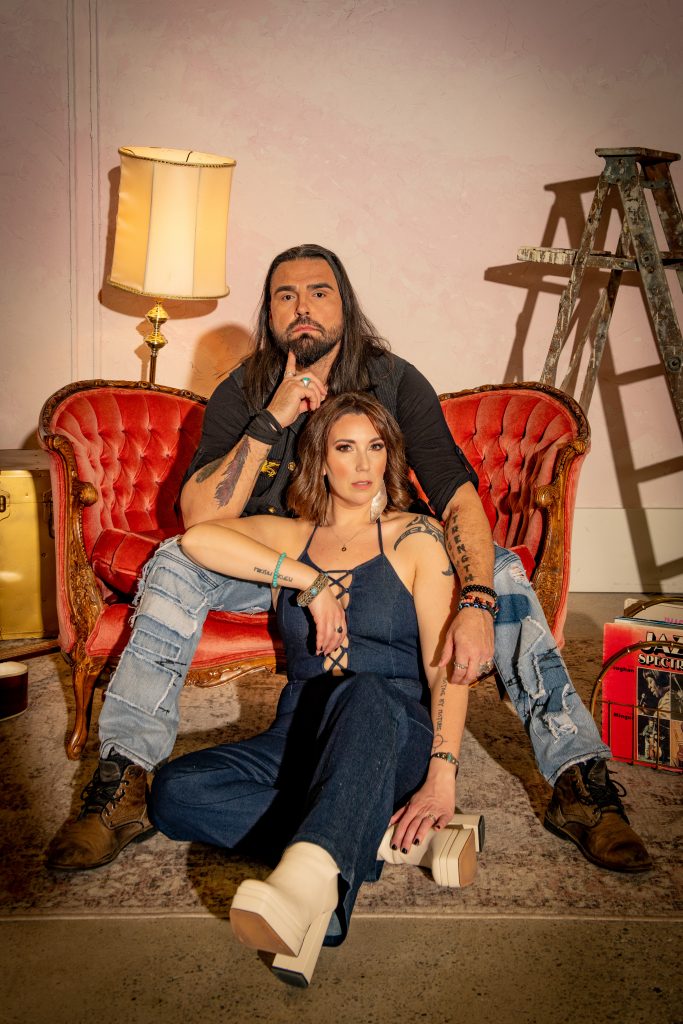 Twin Flames
Sunday July 9 at 3:40pm 
Twin Flames are a husband and wife duo that combine genres, languages and instrumental range to deliver a powerful sound that is both contemplative Folk and unapologetic Rock 'n' Roll.
Twin Flames have chosen to let their music speak for itself. Their substantial body of work and widespread recognition make it clear that they have something special going on. In just eight years of recording and performing as Twin Flames, the duo has accumulated over 43 music awards and nominations.
Their songs have earned them a unique place among contemporary music-makers and songwriters from coast to coast to coast. Twin Flames focus on connection and offer a unique touching show with the perfect blend of music, comedy and thought-provoking stories. Their synchronicity and love shine through everywhere they go, all over the world.
Photo credit: Sean Sisk
For more info: www.twinflamesmusic.com
Twin Flames – FR. 
Twin Flames est un duo mari et femme qui combine les genres, les langues et les instruments pour produire un son puissant, à la fois folk contemplatif et rock 'n' roll sans concession.
Twin Flames a choisi de laisser sa musique parler d'elle-même. L'importance de leur œuvre et la reconnaissance dont ils jouissent montrent clairement qu'ils ont quelque chose de spécial à offrir. En seulement huit ans d'enregistrement et de concerts sous le nom de Twin Flames, le duo a accumulé plus de 43 récompenses et nominations musicales.
Leurs chansons leur ont valu une place unique parmi les créateurs de musique contemporaine et les auteurs-compositeurs d'un bout à l'autre du pays. Twin Flames se concentre sur la connexion et offre un spectacle unique et touchant, avec un mélange parfait de musique, de comédie et d'histoires qui font réfléchir. Leur synchronicité et leur amour transparaissent partout où ils vont, dans le monde entier.
Crédit photo : Sean Sisk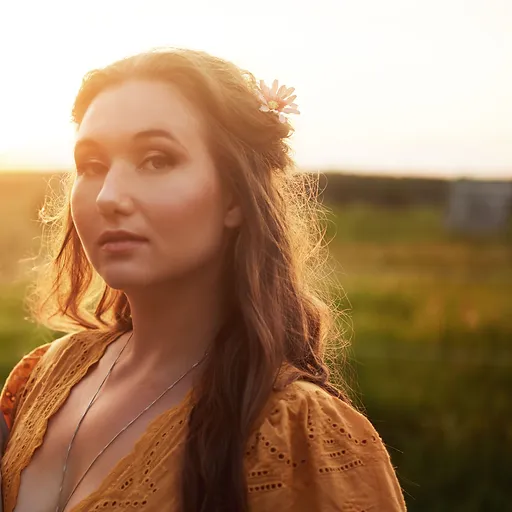 Jessica Pearson & the East Wind 
Sunday July 9 at 5pm
"Like the yellow morning sun inviting fields of sunflowers to turn toward her, Jessica Pearson naturally draws her listeners in. Her love for storytelling, drawing on folk, outlaw country, and Celtic traditions, is evident in her songwriting.
In 2021, Pearson received the Folk Music Ontario 'Songs from the Heart' award for her song Ready My Heart. She was also selected for Global Music Match, a program created to connect artists internationally on social media platforms during the COVID-19 pandemic. Jessica Pearson & the East Wind was also nominated for 'Group of the Year' at the 2021 Capital Music Awards. Pearson's forthcoming album has been nominated for 'Album of the Year' at the 2022 Faces Ottawa Awards.
​
Her long-awaited debut album On The Line was released on  January 21, 2022 through Willow Sound Records, to a sold out crowd."
Jessica Pearson and the East Wind – FR 
"Comme le soleil jaune du matin qui invite les champs de tournesols à se tourner vers lui, Jessica Pearson attire naturellement ses auditeurs. Son amour pour la narration, qui s'inspire des traditions folk, outlaw country et celtique, est évident dans son écriture.
En 2021, Jessica Pearson a reçu le prix Folk Music Ontario "Songs from the Heart"  pour sa chanson Ready My Heart. Elle a également été sélectionnée pour Global Music Match, un programme créé pour relier les artistes à l'échelle internationale sur les plateformes de médias sociaux pendant la pandémie de COVID-19. Jessica Pearson & the East Wind a également été nominée pour le prix du "Groupe de l'année" lors des Capital Music Awards 2021. Le prochain album de Jessica Pearson a été mis en nomination dans la catégorie " Album de l'année " aux Faces Ottawa Awards 2022.
Son premier album On The Line, attendu depuis longtemps, est sorti le 21 janvier 2022 chez Willow Sound Records, à guichets fermés".
Almonte Celtfest 2023 Downtown Buskers Lineup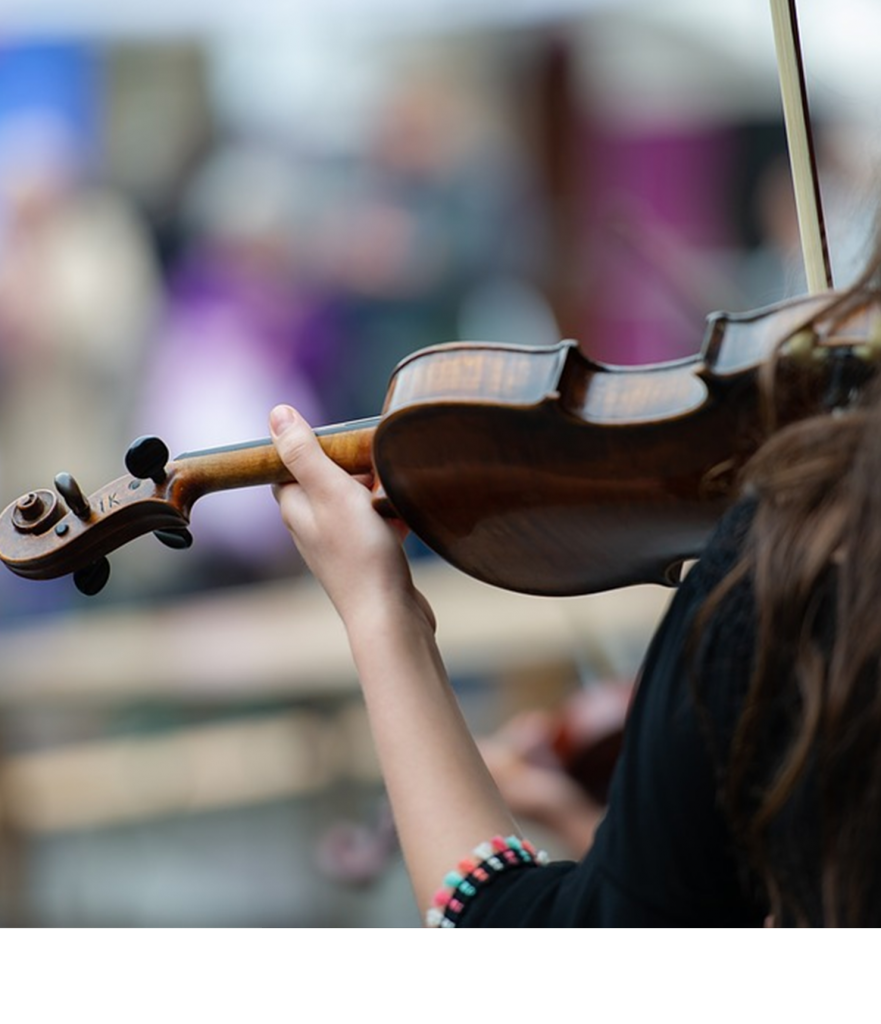 David Ascroft
For Celtfest 2023, David has amassed a collection of 100's of Bretonic, Canadian, Cape Breton, Cornish, English, Galician, Irish, Manx, Newfoundland, Orkney, PEI, Quebec, Scottish, Shetland Islands, USA, Welsh and other related Celtic or Celtic influenced music including airs, alboradas, cancions, foliada, golpes, hornpipes, jigs, single jigs, slip jigs, marches, mazurkas, muiñeiras, pasacorredoiras, pasadobles, polkas, reels, rumbas, strathspeys, waltzes, xotas and more.
He will be playing these pieces on a variety of instruments including banjolele, guitar, autoharp, Qchord, ukulele and electronic wind instruments with the addition of foot percussion accents. As a bonus attraction for younger visitors and the young at heart, he will be providing balloon sculptures.
Watch for balloons and tunes with Dr. Kaboom as he busks with his hat out at Almonte's Celtfest.
Laurie Telgen
Laurie Telgen is a performing artist who performs locally, by request, as well as busking at local festivals and markets. She is both a Theatre Arts and Performing Arts honours graduate with a keen interest in arts generally, and a passion for Nature. She enjoys sewing her own clothing entirely by hand.
Madeleine Kennedy
Madeleine is an 8-year-old fiddler from Pakenham, Ontario. She has been playing since March 2022. She started fiddling when she discovered Lindsay Sterling and wanted to learn to play just like her.
Timothy Robinson
Timothy is an Aircraft Mechanic and a part time professor at Algonquin College. He started playing the Uileann Pipes about 12 years ago, taking lessons at the Ottawa Folklore Centre. He has played in sessions in Ottawa as well as in Ireland whenever he visits. He enjoys busking (especially at the Almonte Celtfest) and talking to the people he meets. He has always had an interest in Irish music, as his ancestors hail from Limerick, Ireland.
Spencer Scharf
Spencer is a one-man band that has done hundreds of solo shows, captivating audiences with expressive fingerstyle guitar, banjo, mandolin, ukulele, keyboard, harmonica and smooth tenor vocals. Inspired by the powerful guitar tones of Neil Young and Leo Kottke, his genre-crossing style also has the upbeat optimism of bluegrass picking and driven celtic strumming. His latest album release, 2020's The Other Side, is a reflection of the unusual times we're in, with its emotional highs, lows, and optimism for the future. His music is featured regularly on FM radio stations CKCU, CANOE, Valley Heritage, and Amherst Island.