2016 Headliners
Here are our headline acts for 2016!
2016 Lineup
Cindy Thompson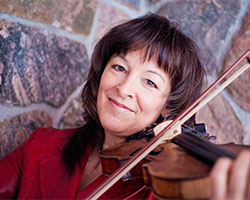 Cindy Thompson grew up in the Ottawa Valley where she initially learned and competed in fiddle and stepdance regionally. Cindy is now recognized as one of Canada's premiere combination fiddle player/stepdancers. She has appeared on national radio and television, performed with symphony orchestras, released three recordings, and performed on stage at major folk festivals, art exhibitions and special events throughout Canada and the USA. Some of Cindy's musical history includes performing on Parliament Hill, on the CBC Rita MacNeil Show, on the Tommy Hunter Show, at the Mariposa and Owen Sound Summerfolk folk festivals, and with Symphony Nova Scotia, the Thunder Bay Symphony, and the Huronia Symphony. Her music has received airplay and critical acclaim on local, national and international media including radio stations across Holland, France, Australia, The Netherlands, Ireland and England. Cindy's fiddling style draws from Irish, Scottish, Cajun, Country, Bluegrass and Canadian Old Tyme styles, notably that of the Ottawa Valley. Cindy now resides in Almonte where she teaches traditional fiddle and stepdance full time.  https://cindythompson.ca/
Kelly Sloan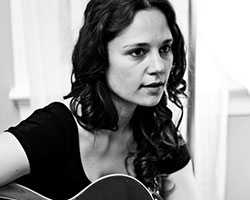 No matter the umbrella under which her music falls, Kelly's masterful voice, rich storytelling, and heart-stirring melodies penetrate deep into your bones the way good music should. A classically trained singer from the Ottawa Valley who spent a third of her life in the Halifax music scene, Kelly's sound is a pleasing blend of diverse styles, ranging from soul, folk, blues, rock & jazz.
Peu importe le genre de sa musique, la voix imposante de Kelly ainsi que sa richesse d'histoire et les mélodies hanteuses qui pénètre dans les os comme la bonne musique est supposée. Elle a étudié en musique classique et a passé un tiers de sa vie musicale à Halifax, le style de Kelly est un mélange divers de soul, folk, blues, rock et jazz.
Ten Strings and a Goat Skin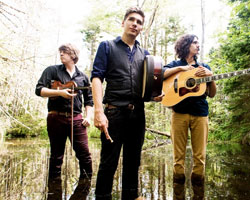 http://www.tenstringsandagoatskin.com
A seamless, polished, barrel-drum-tight, rhythmically innovative & wildly entertaining traditional music powerhouse." (The Guardian)  Multiple nominees for the 2013 Canadian Folk Music awards, ECMA's & Music PEI Awards, Ten Strings And A Goat Skin are having the time of their lives Immersed in the music they love as a trad/folk/fusion bilingual trio.
Playing Irish, Acadian, French & original creations, infused with modern and world rhythms, they have created a fiery, contagious & unique sound that has them touring throughout Canada, the US & Europe.  Industry heavyweights reference their rare musicality as belying the members young ages of 19 & 20 years.
From Prince Edward Island, Canada, with seemingly ceaseless energy, Jesse Périard and brothers Rowen Gallant and Caleb Gallant, ignite onstage as Ten Strings And A Goat Skin.
De la musique traditionnelle très excitantes, remplie d'énergie, avec un rythme novateur, une cadence précise et très ajusté » (The Guardian). Nominés en 2013 pour le gala Musique Folk Canadien, en 2014 & 2015 ECMA & le gala Musique IPE, ce trio dynamique bilingue joue de la musique Irlandaise, Acadienne, Française et des compositions originale trempées de rythmes moderne à saveur international. Leurs musiques à son unique et leurs présence contagieuse sur scène les amènent en tourne à travers le Canada, les Êtas-Uni et l'Europe.
Louis Schryer & Erin Leahy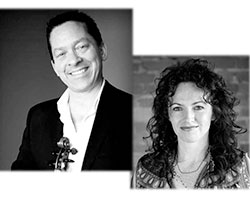 Louis Schryer, a fiddler extraordinaire whose passion flows through his instrument with a soulful magical touch and exhilarating spontaneity. Award winning Canadian fiddle champion, Louis Schryer, is one of Canada's most respected and sought out fiddle players. Even though there are many astounding fiddlers in Canada, Louis is the only Canadian fiddler that holds a record breaking 8 time Canadian Fiddle Champion and the only one that holds the title of 4 time Grand Masters Fiddle Champion. He astonishes audiences every time his bow crosses the strings with stylistic diversity and influences that cross the spectrum of fiddle and violin music. His influences have shaped his musical ability into a unique style that is displayed through various features. He connects musically with any artist in a way that compliments the performance, captivating the audience into the world of the musician's musical experience, leaving them feeling exhilarated.
Louis will be joined by the multitalented Erin Leahy, currently residing in Montreal. Erin spent many years playing along with her siblings as a member of "Leahy", the musical family from Lakefield and continues to do so. She is an astounding piano player that can impress any audience. Erin can bring out the magic from any performer she accompanies. She is still very involved and in demand within the music industry and is currently recording a new piano CD of her own. Louis and Erin will put on a performance that will truly be remembered.
Cratur
Cratur is a four piece fiddle Ottawa Valley band that comprises Bob Davidson and Arlene Probert on fiddles, Art Solomonian with Bodhran and Charlie Dunlap accompanying on guitar.  We play an assortment of Irish, Scottish, Cape Breton, Newfoundland and Quebecois music.  Formed in 2013, they have been a regular in pubs, festivals and private venues in and around the valley, Ottawa and through-out Ontario.  They have recently performed at large conventions at the NAC in Ottawa and at the Canada Aviation and Space Museum.  The high spirits, blends of diverse music genres and consistent sweet notes are reflected in the Cratur name, which is Irish Gaelic for Whiskey.
Cratur est un quatuor de la Vallée des Outaouais qui comprend Bob Davidson et Arlene Probert sur violons, Art Solomonian sur Bodhran et Charlie Dunlap qui accompagne sur la guitare. Ils jouent une variété de musique irlandaise, écossaise, du Cap Breton, Terre neuve et québécoise. Formés en 2013, ils se trouvent régulièrement en spectacle dans les festivals et fêtes privées à travers la province. Ils ont récemment joué au Centre national des arts à Ottawa et le Musée d'aviation. Le nom du groupe provient du Gaélique irlandais qui signifie le whiskey.
Alexander Trio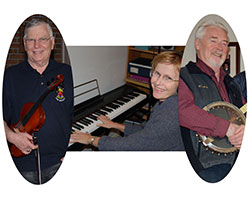 Dennis Alexander, Frank Cassidy and Marietta Fraser have been playing music together for many years in various configurations, including The Ottawa Ceili Band, Corrib and Alexander's Old Time Band. They play a wide variety of folk music, focusing on the Irish, Scottish, Québec and Old Time genres.
Dennis – Fiddle, originally from Pontiac County in West Québec, has been playing traditional and old time music for a long time, and is well known throughout North America and Ireland as a violin maker. His violins are being played all over Canada, the US and Ireland. He has produced several albums of fiddle and old time music including the popular "Fiddlemaker" series, volumes 1 and 2.
Frank – Whistle, Banjo, grew up in the middle of Ireland, surrounded by the traditional music of Offaly and East Galway. He has performed at many venues from the first multi-racial concert in Johannesburg, South Africa to Dublin's Trinity Hall. He has appeared on Irish, South African and Canadian television and co-wrote the theme for an Irish Arts program for RTE (Irish TV). His first CD entitled "Tin Air" won critical acclaim in Canada and the US. He has also collaborated with James Stevens, writing music for and producing a CD depicting the Life and Times of Thomas Darcy McGee.
Marietta – keyboard, is a native of Dalkeith Ontario. She has been actively involved in music for
many years, having performed with The Ottawa Ceili Band, Corrib, and The Ottawa Fiddle Ensemble.
She enjoys a variety of styles of music, and currently performs with EH Gospel Sound, a gospel group from East Hawkesbury. Recently, they released a wonderful album entitled "The Tie that Binds".
Dennis Alexander, Frank Cassidy et Marietta Fraser jouent ensemble depuis plusieurs années dans différents groupes incluent le Ottawa Ceili Band, Corrib et Alexander's Old Time Band. Ils jouent une grande variété de musique folk, avec l'emphase sur la musique irlandaise, écossaise, québécoise et de genre ancienne.
Boxty Band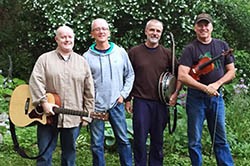 Featuring banjo, mandolin, fiddle, guitar, whistles and harmonica the Boxty Band is a high energy acoustic folk group specializing in Irish, Scottish, Quebecois and Cape Bretton traditional music and songs.
The bands lead singer, John Linehan (guitar) hails from Limerick in Ireland. His lively and humorous style along with his strong versatile voice, ensure that audiences find him as much fun to watch as to listen to. Don Fletcher, a highly regarded Celtic musician from Kingston, Ontario features on fiddle and bodhran. Playing banjo and mandolin is the versatile and gifted Don McVeigh from Edmonton, Alberta. Another Irishman, Gerry Larkin, from Galway, completes the group featuring on vocals and playing a variety of whistles, low whistles and harmonicas.
You'll certainly be entertained by this eclectic group of musicians who really enjoy what they do and it shows.
Avec le banjo, mandoline, violon, flutes et harmonica, le Boxty Band est un groupe folklorique qui spécialise en musique irlandaise, écossaise, québécoise et du Cap Breton.
John Linehan (guitare) provient de Limerick en Irlande. Son sens d'humour et sa voix puissante font en sorte que les spectateurs sont toujours amusés et charmés. Don Fletcher de Kingston, ON joue du violon et bohdran et est considéré comme musicien de haute qualité. Au talent varié sur le banjo et mandoline est Don McVeigh, d'Edmonton, AB et un autre Irlandais, Gerry Larkin de Galway complète le groupe comme chanteur et flute et harmonica.
Vous allez surement être divertie par ce groupe de musiciens.
Les mots dits Anglais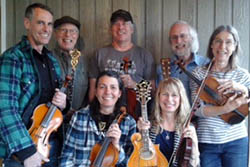 Les mots dits Anglais is an ensemble of Ottawa Valley acoustic musicians that have been getting together monthly for more than seven years to learn and play traditional and contemporary Québecois music. The group consists of six fiddlers accompanied by guitar, tenor banjo, mandolin, and occasionally feet, and have been strongly influenced by the styles of modern Québec fiddlers André Brunet, Pascal Gemme, Richard Forest, and others. They play a variety of toe-tapping jigs and reels in the often "crooked" style characteristic of Québecois tunes, much of which is rooted in the traditional dance music of Ireland, Scotland, and France.
Les mots dits Anglais sont un ensemble de musiciens acoustique des Outaouais qui jouent ensemble mensuellement depuis les sept dernières années, pour apprendre et jouer de la musique traditionnelle et de style québécois. Ils jouent une variété de pièces de style caractéristique du Québec qui sont enracinées dans la musique traditionnelle de l'Irlande, l'Écosse et la France.
The Trousers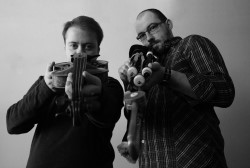 The Trousers are an instrumental duo that play traditional Scottish, Irish, and Cape Breton music. Music teachers Ross Davison and Karson McKeown serve up a fresh batch of toe-tapping jigs, reels. Their current sound features Uilleann (Irish) bagpipes, Whistles, Fiddle, Guitar, and Bodhran.
The Trousers est un duo qui joue de la musique traditionnelle, irlandaise, écossaise et du Cap Breton. Professeurs de musique, Ross Davison et Karson McKeown livrent des gigues qui vous feront danser. Depuis leur début en janvier 2016, The Trousers on joué fréquemment autour d'Ottawa.
Website and videos- http://www.rossdavisonmusic.com/the-trousers
Graham Lindsey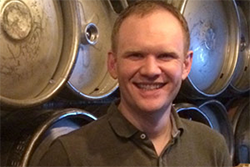 In the fall of 2014, Graham began writing Celtic- and traditional-style instrumental tunes. His music has been described as being "written by a listener": interesting tunes for the audience, but not necessarily Irish, Scottish, Cape Breton or Québecois. He is a multi-instrumentalist (percussion, flute and most recently mandolins and banjo) and he plays with numerous Celtic bands looking for a little extra musical "colour" in their show.
When he's not playing with a band, you can find him playing sessions across the country, or in a number of other musical settings. In his spare time, Graham is on the board of the Canadian Folk Music Awards and is involved in this country's wider folk music community. Sharing music, though, remains his greatest joy—as evidenced by the "idiot's grin" he often sports while playing.
Depuis l'automne 2014, Graham compose de la musique celtique et tradionnelle. Sa musique est décrite comme étant « écrite par l'écouteur » : des pièces intéressantes pour l'audience, mais n'est pas nécessairement irlandaise, écossaise, Cap Breton ou québécoise. Il est un multiinstrumentaliste (percussion, flûte et plus récemment mandoline et banjo) et il joue avec de différents ensembles qui cherchent un petit « je ne sais quoi » à leurs spectacles.
Quand il n'est pas occupé à jouer avec un groupe, vous pouvez le trouver à travers le pays ou dans autres musicaux. Dans son temps libre, Graham est membre du conseil administratif des Prix canadiens de musique folk et est impliqué dans la grande communauté folk du pays. Sa plus grande joie est de partager sa musique avec un grand sourire au visage.
The Ryan Brothers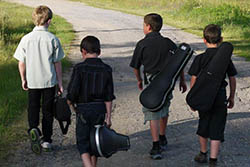 Michael and Bernie have been playing music over than 45 years at many different functions throughout the Ottawa Valley. They started with their parents, playing local dances then started the band Concession Twelve in 1977.
Bernie and Michael founded the group Seconds Out in 1990. In 2007, they recorded a CD of Traditional Celtic and Maritime favorites.
The Ryan Brothers have shared the stage with Natalie MacMaster, Gene Watson, Pam Tillis, Sammy Kershaw, Lorrie Morgan, Marty Stuart, Whispering Bill Anderson, Stonewall Jackson, Tommy Makem, George Fox, Rich Little, Wayne Rostad, Charlie Major, Mike O'Reilly, Bobby Lalonde, Gail Gavan, Kelli Trottier, April Verch, and many other local performers.
Michael et Bernie jouent de la musique depuis plus de 45 ans à travers la vallée des Outaouais. Ils ont débuté avec leurs parents en 1977 comme le groupe Concession Twelve.
Bernie et Michael ont fondé un second groupe du nom de Seconds Out en 1990 et en 2007, ils ont enregistré un album de musique traditionnelle celtique et des maritimes.
Les Ryan Brothers ont partagé la scène avec des renommés tel que Natalie MacMaster, Gene Watson, Pam Tillis, Sammy Kershaw, Lorrie Morgan, Marty Stuart, Whispering Bill Anderson, Stonewall Jackson, Tommy Makem, George Fox, Rich Little, Wayne Rostad, Charlie Major, Mike O'Reilly, Bobby Lalonde, Gail Gavan, Kelli Trottier et April Verch.
Occasional Pudding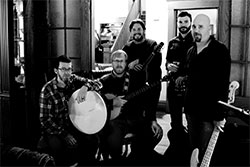 A fine blend of the best highland and hillbilly malts. Occasional Pudding delivers sweet sounds with a smooth aftertaste. Described as being "a sophisticated approach to poly-traditional genre-based weekend entertainment". Occasional Pudding is sure to please the most discerning reveler.
Un beau mélange des meilleurs hauts plateaux et malts. Occasional Pudding offre des sons doux avec un arrière-goût lisse. Décrit comme étant «une approche sophistiquée de divertissement weekend genre poly-traditionnelle". Occasional Pudding est sûr de plaire les plus exigeants.
Ottawa City Piping College
Ottawa City Piping College, opened in 2012, is affiliated with the Central Ottawa City Piping College/Champion Bagpipes. We teach bagpipes (Great Highland Bagpipe and Small-pipes) at all skills levels and to all ages both in person and via Skype. We also have pipers available for hire to play at your special event (Weddings, parties, funerals, corporate functions). Several of our pipers (varying skill levels) will play at Almonte Celtfest to entertain attendees including our youth players who call themselves "Thuirle Thairle" (Herluh, hairluh…Scottish Gàidhlig for "Hurly Burly" Comunn Gàidhlig Ottawa, Ottawa City Piping College – Westend Studio – OCPC – West
Riverthieves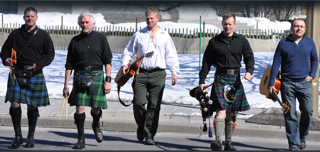 Riverthieves, born out of the Wiskey Dollies, first performed as a trio in the spring of 2003 with Finley Mullally on mandolin, bodhran and vocals; Chris Knowles on guitar and vocals; and Sal De Meo on bass and back-up vocals. By December of that same year, Shanthi Minor joined the group adding fiddle to the celtic/folk flavour of the band. In February 2005, Riverthieves introduced pennywhistle and bagpipes to their mix with Devon Matsalla. By the fall of 2006, the band rounded out their sound with accomplished drummer Terry Kittmer. In 2010, Evan Lewis and Megan Patrick joined the goup as the band's new filddle players.
Les Riverthieves on eu leur début au printemps de 2003 avec Finley Mullally sur mandoline, bohdran et voix; Chris Knowles sur guitare et voix et Sal De Meo, bassiste et voix. Par décembre, de la même année, Shanthi Minor a joint le groupe ajoutant le violon du type celtique/folk avec le groupe. En février 2005 le groupe ajouta le flûteau et la cornemuse de Devon Matsalla. Par l'automne 2006, le groupe est arrondi avec Terry Kittmer au tambour. En 2010, Evan Lewis et Megan Patrick se joignent comme nouveaux violonistes.
Patrick Donnelly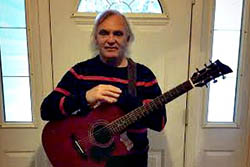 Singer-songwriter Patrick Donnelly has been playing Celtic music in the Ottawa region for over 40 years. His music bridges traditional Celtic melodies with folk storytelling. Patrick has played in Wolfhound Road and The Beguilers as well as crafted a successful solo show.
Along with performing at local venues like the Cheshire Cat, Royal Oak, Celtic Cross, and previously at Almonte Celtfest, Patrick has played a crucial role in organizing numerous charity shows for the Royal Ottawa Mental Health Centre – combining his love of music with his passion for helping those in need.
Compositeur-interprète Patrick Donnelly joue de la musique celtique dans la région d'Ottawa depuis plus de 40 ans. Sa musique fait le pont entre les mélodies traditionnelles et des contes folkloriques. Il était membre des groupes Wolfhound Road et The Beguilers en plus d'une carrière comme soliste.
En plus d'être en spectacle au Cheshire Car, Royal Oak, Celtique Cross et Almonte Celtfest, Patrick a joué un rôle très important comme organisateur de spectacles de levées de fonds pour Le centre de santé mentale – Le Royal, combinant son amour de la musique avec sa passion pour aider les autres en besoin.
Terri-Lynn Mahusky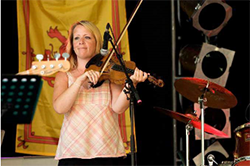 Terri-Lynn has been playing fiddle for 28 years and step-dancing for 35 years. She's toured throughout Canada, the U.S. and Europe with her music. She has won numerous awards in both fiddle and step, including clinching the Blind River Open Championship in both. Terri-Lynn has played in several bands, from country to Celtic respectively. She's recorded 2 CDs and is working on tunes for her third!
Terri-Lynn joue le violon depuis 28 ans et danse depuis 35 ans. Elle a fait des tournées de l'Amérique du nord et l'Europe et a gagné plusieurs prix don le Championnat de violon et danse de Blind River. Terri-Lynn a joué avec plusieurs groupes dans les genres de country et celtique. Elle a deux disques à son nom et travaille couramment sur un troisième!
The Barley Shakers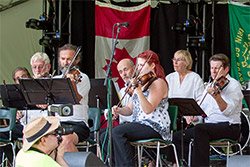 A group of Celtic musicians who enjoy performing. Our music ranges from centuries-old Celtic tunes to the influence of Celtic music on Canadian old time fiddling, to Broadway show tunes and popular songs and melodies of the twentieth century.
Bytown Highland Dancers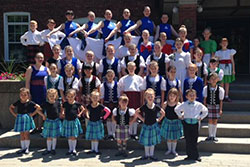 As one of the leading Highland Dance schools in the Ottawa area, Bytown Highland Dancers focuses on excellence in traditional highland and national dances as well as original choreographies. Taught to the highest standards, members of Bytown Highland Dancers participate in annual British Association of Teachers of Dance examinations as well as all categories of competition from primary to premier. Bytown Highland Dancers instructors have competed successfully provincially, nationally and internationally in both traditional dance and in the creation of award-winning choreographies. They are frequently requested to appear as guest performers at special events and tattoos in Canada and abroad and many dance regularly with the acclaimed Ottawa Police Service Pipe Band. All are accredited with either the British Association of Teachers of Dance, the Scottish Dance Teachers Alliance and/or the Scottish Official Board of Highland Dancing.
Monday Night Fiddlers
The Monday Night Fiddlers continue the Valley tradition of kitchen/house sessions, the group has been meeting every second Monday night, since 2002 at homes such as Celtfest founder Dan O'Connell's to share tunes and keep the tradition alive!
Les Monday Night Fiddlers continuent la tradition des sessions dans les cuisines/maisons de la vallée. Le groupe se rencontre tous les deux lundis soir depuis 2002 dans des maisons, tel que du fondateur de Celtfest, Dan O'Connell pour partager de la musique et de garder la
tradition vivante!